Mills
Water Mills of Great Barr
The River Tame provided a source of power that was harnessed by the construction of water mills. There are a number within the scope of this site, one surviving at Forge Mill.
Bustleholme Mill
Between Tame Bridge and Newton was Bustlehome Mill, which was in use in 1895. In 1594 it was transferred from the lordship of Wednesbury under the Comberfords, to the Stanleys of West Bromwich manor, with all rights to fishing and use of the water. By 1663 the mill was occupied by John Simcox, ironmonger - indicating some manufacturing of iron goods. I 1709 it was in the possession of John Lowe as a corn mill and slitting mill combined. Now the power being used to produce nails. In 1732 the mill was being worked as a Rod Mill and Oil Mill by Jesson Lowe. In 1743 the mill was providing Thomas Jesson, of the Forge, with bars. Around 1803-1812 the mill was being worked by a Mr Morris. It was idle for some years before being worked by G.B. Thorneycroft. The construction of the canal and railway intersected at the mill area.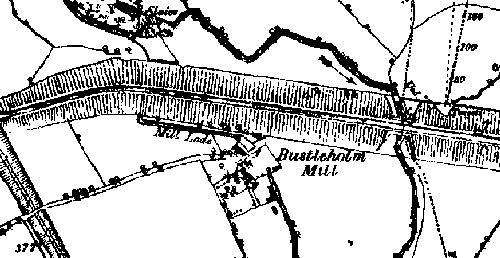 Forge Mill Farm
The Old Forge millis at the point nearest to Sandwell and was probably the corn mill for the priory. After the supression of the monastery it was adapted for the iron industry as a hammer mill, the adjoining lands being known as Hammer Mill Meadows.
Currently Forge Mill Farm, in Forge Lane, is a modern dairy farm run by Sandwell Council, providing visitors with the chance to experience farming from the Nineteenth Century to the present day. Visitors can watch our herd of pedigree Jersey cows being milked each afternoon from a specially built viewing area that overlooks the milking parlour. The farm also gives families the chance to feed our goats and chickens, or follow the farm trail around the fields and watch seasonal activities such as hay making and silaging from a safe distance.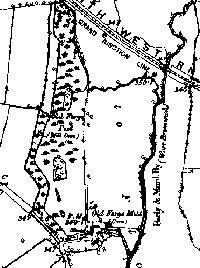 Hamstead Mill
This mill was the manorial grist mill. The Domesday book entry which is believed to cover this area states:
William, the son of Ansculf, holds of the King and Walter of him, five hides in Hunesworde. Land of five ploughs; now in the demesne; two ploughs; eight villeins have one plough and a half. There is a mill of eight shillings, and twenty acres of meadow.