Shustoke Lodge
Shustoke Lodge of Great Barr Hall is situated on the Birmingham Road by Merrions Wood. The road to Great Barr Hall led through the deer park to another lodge in Chapel Lane. It also appears as Walsall Lodge on some documents and is now known as Merrions Wood Lodge.
The property is Grade II listed and was designed by George Gilbert Scott around 1854) .
It was purchased by new owners in June 2007. Further restoration is being undertaken.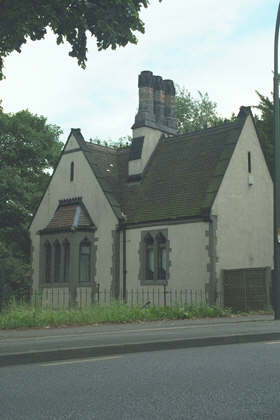 Walsall Council Listing information states:
Lodge Grade II
Lodge to Great Barr Hall (qv). 1854. Attributed to George Gilbert Scott. Rendered brick with some sandstone dressings and tile roof. Single storey. Windows have trefoiled ogee lights. North-west front has gable at left. Under this is a canted bay window with tile roof, with three lights to the front and one to each side. The stone gutter has carved figures at the corners. Above is a narrow opening with a sandstone band above. This is inscribed: "MDCCCLIIII". To the right the main part of the facade is of one bay with a 2-light window. To its left is a chimney. Coped gables. Set back to the left is a wing with a gable facing north-east, towards the drive. This gable wall has a 3-light window. Chimney on left-hand wall. To the right, in the angle with the front part of the lodge, is a single- storey gabled timber porch with carved bargeboards. An old photograph, taken before the building was rendered, shows polychrome brickwork in a diaper pattern. G G Scott was a personal friend of the (unrelated) Scott family of Great Barr Hall and is known to have carried out work on the estate.