Buses
Buses Through Great Barr
These pages are divided into two parts. The early years where all services were operated by major operators who later became West Midlands Passenger Transport Executive, and more recent opertations post-deregulation with many new services and operators.
West Bromwich Corporation Transport
W.B.C.T.D. opened a new route, the 6, to Hamstead to assist miners in getting to work at the colliery, in February 1920. The route became the 406 when taken over by West Midlands Passemger Transport Executive.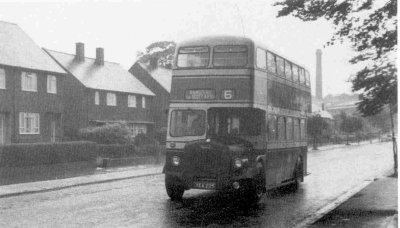 A more unusual operation occured in the Summer of 1926 when a tours licence was issued that allowed the Corporation to run an evening tour from Dartmouth Square to Barr Beacon, returning with a half-hour stop at Red House Park.
Birmingham City Transport
2 Ivy Bush to Hamstead
The 2 service orginally ran from the Ivy Bush,Hagley Road to Monument Road, Hamstead Road, Browne's Green (Handsworth Wood) in 1916 and was extended to Hamstead in 1932. The 2B ran from Hamstead to the Ivy Bush and on to Queen Elizabeth Hospital, Selly Oak in 1939.
16 Hamstead to Birmingham
The 16 originally ran from Birmingham City centre to Friary Road in Handsworth Wood in 1925. Extended as the 16A to Beauchamp Avenue on 27th October 1937 it finally reached Hamstead when extended on 3rd December 1937. The 16A was renumbered 16 on 7th December 1958. A further short extension was made to a new turning circle at Hamstead Village on 10th December 1961. The 16 became a cross city service in 1929 when linked to the 15, buses from Hamstead showing 16 when terminating at the City, or 15 when working through to Yardley. The 15 itself being extended towards Whittington Oval (1949).
The terminus at Hamstead was actually in West Bromwich and was shared with the W.B.C.T.D. 6 service.
51 Birminghan to Scott Arms
The 51 was originally a Midland Red service and was taken over on 4th May 1958, terminating at Scott Arms.
On 1 October 1969 West Midlands Passenger Transport Executive (WMPTE) tookover Walsall Corporation Transport so the service then became a jointly operated one between Midland Red and WMPTE. This situation prevailed until 3 December 1973 when WMPTE acquired most of the Midland Red bus operations in the West Midlands including service 118. Thus service 118 became operated solely by WMPTE. The use of service number 118 ceased around 1975 when the local Birmingham city service between Birmingham and Scott Arms (service 51) became co-ordinated with the 118 service. Buses operating from Walsall to Birmingham now used service number 51 instead of 118. Those journeys that did not operate the full length of the route used service designation 51E, the "E" indicating an exception to operating the full length of route. In this instance the vast majority of 51E journeys were journeys operating between Birmingham and Scott Arms.
29 Birmingham to Pheasey Estate
Buses came to the new Pheasey Estate area when the 29 was extended from Kingstanding to Hillingford Avenue on 19th August 1940. This section from Kingstanding became the 29A in 1941 when services were curtailed at Kingstanding. The 29A was renumbered 90 on 29th November 1964 for services to Pheasey Estate. Return service number 91.
Birmingham and Midland Motor Omnibus Company (Midland Red)
The 118 Birmingham through to Walsall service was operated jointly with Walsall CT. The 119 became Birminghams 51 in 1958. The origins of service 118 go back to the early part of the 20th century when a service was introduced between Walsall and Birmingham by a company that later became widely known as "Midland Red". The service was numbered 118 for many years. Around 1968 service 118 became a jointly operated service between Midland Red and new-to-the-route Walsall Corporation Transport

Walsall Corporation Transport
Walsall occupying one corner of Great Barr also ran its services through the area. The 118 Birmingham to Walsall service was operated jointly with BMMO. The 53 ran jointly with West Bromwich CT through Queslett and onto Streetly via Barr Beacon.
Around 1968 service 118 became a jointly operated service between Midland Red and new-to-the-route Walsall Corporation Transport. As a result, for transport enthusiasts the 118 service became a very interesting one since both operators often used vehicles that were unique to themselves. Midland Red often used buses of it's own manufacture (ie. BMMO) whilst Walsall Corporation had various specially modified types of manufacturers buses ranging from "short" Daimler Fleetlines to what was once the largest double deck service bus in the UK, ie. 56 (XDH56G) a 35 feet 10 inches long low-height Daimler CR36 with an 86 seater Northern Counties body. [Wikipedia]
West Midlands Passenger Transport Executive
On 1st October 1969 the buses of Birmingham, Walsall and West Bromwich became part of the new PTE. West Bromwich's 6 was renumbered 406 while Birmingham services retained their numbers.