Buses post 1986
De-Regulation of Buses - 1986 to date
The deregulation of bus services led to the replacement of WMPTE with Travel West Midlands on 26th October 1986. While the main services to Great Barr carried on there were many new companies plying for trade and new services fulfilling the needs of passengers. A number of routes are now operated by multiple companies. Centro develops and promotes bus travel in the West Midlands.
2007 - Network West Midlands
Network West Midlands is the name that connects all public transport in the West Midlands metropolitan area. This includes Birmingham, Dudley, Sandwell, Coventry, Walsall, Solihull and Wolverhampton.

It clearly identifies the complete network of bus, rail and Metro services that are easily accessible to most people in the West Midlands.

Centro launched Network West Midlands in 2006. Complete roll-out was achieved in December 2007. Network West Midlands signage is installed at all bus, train and Metro stops.
Click on the map above for current service details from Network West Midlands bus services
Bus Routes (Numerical Order)
5 West Bromwich - Pheasey - Sutton Coldfield
Renumbering of 451 from 28 October 2012
16 Birmingham - Hamstead and Scott Arms
Service 16 links Birmingham with Hamstead and peak hour service 16A links Birmingham to Scott Arms, Great Barr.
March 2009 GRS Travel operate a regular service on route 16A 7 days a week
22 June 2008 - Travel Express withdraw operations on this service.
7 May 2008 - Diamond Bus slightly reduce the overall frequency on service 16 and withdraw the evening service.
27 April 2008 - Diamond Bus night service 16N is withdrawn.
December 2007 - National Express West Midlands Scania OmniLink start appearing on the route. These will replace the MCW Metrobus and Volvo B7TL Alexander ALX400 16 branded vehicles.
30 July 2006 - Diamond Bus introduce a evening and Sunday service.
28 Small Heath to Scott Arms via Erdington
Travel WM service. Also operted from Shady Lane by Zaks coaches.
39 Birmingham - Pheasey via Walsall Rd, Aldridge Rd
Travel West Midlands Birmingham - Pheasey via Walsall Rd, Aldridge Rd. Service Withdrawn 31/1/05 - facility covered by a revised service 997
46 Scott Arms to West Bromwich/Londonderry via Hamstead Village
Renumbering of 406 on 28 October 2012 and extension to Londonderry
46A 46S Birmingham - Pheasey via Lozells, Perry Barr
46 route curtailed at Perry Barr, through services to Pheasey numbered 46A (27/2/05)
51 Birmingham to Walall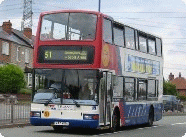 Since deregulation (26 October 1986) service 51 has been consistently operated by West Midlands Travel. Various other operators seeing the route as a busy one have attempted to compete but have all subsequently withdrawn from the service. Such operators have included Tame Valley Travel, Birmingham Coach Company (later known as Diamond Bus), Chase Bus Services, Zaks Coaches (now Rotala) and A2Z Travel.
406 / 406H West Bromwich to Scott Arms
The addition of H to various West Bromwich services indicated that the sevices travel past Sandwell General Hospital. [Travel WM]. Renumbered 46 on 28 October 2012 and extended to Londonderry.
407H Europa Village (West Bromwich) to Scott Arms
424 Perry Beeches – Scott Arms – Hamstead – Perry Barr – Birmingham (was operated by Zaks, currently VIP Contracts)

ROUTE DETAILS : From Beeches Road,Aldridge Road then via: Beeches Road, Castleton Road, Thornbridge Avenue, Haddon Road, Curbar Road, Rowdale Road, Longstone Road, Thornbridge Avenue, Beeches Road, Turnberry Road, Thetford Road, Duxford Road, Booths Farm Road, Perrywood Road, Calshot Road, Cardington Avenue, Mildenhall Road, Hamble Road, Queslett Road, Scott Arms, Newton Road, Jayshaw Avenue, Gorse Farm Road, Appleton Avenue, Spouthouse Lane, Hamstead Road, Old Walsall Road, Kingsdown Avenue, Tower Hill, Rocky Lane, Walsall Road, Harrier Way, Birchfield Road, Aston Lane, Stoneleigh Road, The Broadway, Bevington Road and on to City.
Return via: Haddon Road then Thornbridge Avenue, Aldridge Road, to Beeches Road,Aldridge Road.
425 Scott Arms - Hamstead Village - Pear Tree Estate (was Zaks, VIP Contacts)
Scott Arms, Rokeby Road, Longleat, Monksfield Ave, Pear Tree Estate, Tanhouse Ave, Valley Road, Hamstead Village
451 West Bromwich - Pheasey - Sutton Coldfield
On 28 October this route was re-numbered 5 as part of a re-organisation of services.
654 Hamstead Village to Perry Barr
654A Tanhouse Avenue to Perry Barr
655 Great Barr - Asda (Queslett) - Pheasey - Barr Beacon - Aldridge
Petes Travel.
997 Birmingham to Walsall via Pheasey
Travel West Midlands launched their brand new £1m Premier 997 bus service on Sunday 30th January 2005. This limited stop, fast timetable service saw 9 brand new Wright's Gemini Double-Decked vehicles operating on the route, all of which have the latest "CrystalEyes" multi-media CCTV technology fitted for the benefit of customers. The vehicles are fitted with semi-coach seating which give an enhanced all round seat pitch, adding to passenger comfort. With additional features such as low-floor, easy access vehicles we hope that these high quality internal and external specifications will give benefits for both existing and potential passengers. (Travel WM).
Bus Operators
Travel West Midlands
Travel West Midlands (formerly West Midlands Travel) was established as a Company on 26th October 1986, following the 1985 Transport Act and deregulation of bus services.
The Company took over the operation of the bus fleet formerly run by the West Midlands Passenger Transport Executive (known as the 'Corporation Buses' and now as CENTRO) and was a private limited company whose sole shareholder was the West Midlands Passenger Transport Authority. In December 1991, the company was sold to its employees in the form of a 100% Employee Share Ownership Plan, the first of its kind in Britain.
In April 1995 Travel West Midlands merged with National Express Group (NX Group), a public limited company which is listed on the stock exchange.
Currently the largest bus operator in the West Midlands region with nearly 600 bus routes, Travel West Midlands operates a fleet of 1,800 buses and carries nearly one million passengers every working day.
Zaks Buses (CentralConnect)

Zak's Bus and Coach Services Ltd. was acquired by Rotala Group plc. (October 2006) The Zak's operations will be integrated with those of Flights Hallmark, and the bus services of both companies operate under the Centralconnect brand name.
VIP Contracts
Formed in 1994 in Hockley, Birmingham this operator runs the 424/5 routes in the area.