Motorways
M5 M6 Motorways
A significant part of Great Barr is affected by the M6 and M5 motorways which connect along the B43 boundary.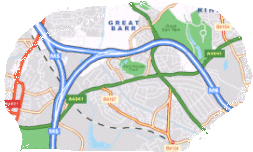 At Great Barr on the Walsall Road the M6 junction 7 provides access to the Motorway.

To the North the M6 cuts along the edge of the Great Barr Hall site, crossing over the Queslett Road by the Walsall - Sandwell Boundary.
To the East the M5 arm of the Ray Hall interchange bridges Wilderness Lane before crossing the Tame Valley canal and heading for West Bromwich under the Newton Road.
The M6 Bescott to Ray Hall triangle section (J9 to J8) was started in May 1968 and opened in May 1970
The M6 Ray Hall to Great Barr section (J8 to J7) was started in May 1968 and opened in July 1970. The M5 link from West Bromwich to the M6 (J8) section was started in June 1967 and opened in May 1970.