Rocky Lane Shops
Rocky Lane forms part of the Hamstead Village shopping area. See also the shops in Hamstead Village.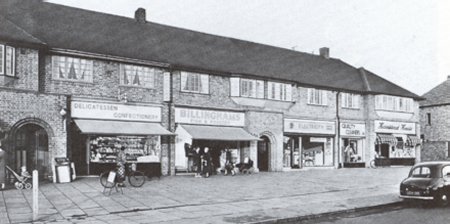 409
Forrest Pharmacy (moved 2007 from no 413)
Dress Shop
"Hamstead House" (c.1956)
411
The Changing Room - Hairdressers
Hamstead Home brew, 1984-1993
"Quality Cleaners" (c.1956)
413
Smoking bagels, takeaway (being fitted November 2016, open 31st July 2017)
Shabby and Wacky (July 2014- September 2016)
Attiba - fitness centre (to c.June 2014)
Hamstead Pharmacy (moved to 409 in 2007)
"Electricity" Shop (c.1956)
415
SPAR Supermarket
Billinghams Fish and Poultry (c.1956)
417
SPAR Supermarket
Delicatessen / Confectionary (c.1956)
423
Caribbean Touch, Takeaway (March 2013-)
Divas-boutique (August 2006-<May2011)
Greengrocers (12 February - July 2006)
Budget Box, clothing store(-2005)

425
Sangam II, Restaurant and Takeaway (August 2010-)
Fireworks Store (temporary October / November 2009)
Second City Home and Garden (under new management from April 2008, closed August 2009) 
Second City - Hardware Store (to 19/4/08) Formerly located in the Old Walsall Road - International House, prior to the construction of LIDL.

B.E. Brown, Hardware and builders. (<1973-)
 
427
Sahaara, Sikh and Hindu funeral directors (October 2016-)
427 Property Agency (April 2005-2016)
Bradys; Hughes; - Butcher (-2005)
Stowar - Butcher (c. 1973)