The Fallen of WW II
Those who died in World War II from Great Barr are remembered on the gates of St. Margarets Church and on a memorial in the church yard. The original plaques here were stolen and new ones have been now installed. There were some errors on the original details and they were corrected in the new plaques.
Original Plaques (1952)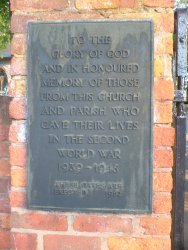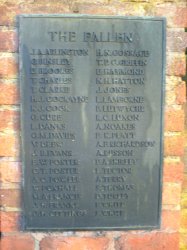 The Gates were erected in 1952.
The left pillar had a plaque:-
TO THE
GLORY OF GOD
AND IN HONOURED
MEMORY OF THOSE
FROM THIS CHURCH
AND PARISH WHO
GAVE THEIR LIVES
IN THE SECOND
WORLD WAR
1939-1945
THESE GATES ARE
ERECTED 1952


The right hand pillar listed the fallen:
J.A. Arlington
G. Binsley
E.Brookes
T. Charles
T. Clarke
H.J. Cockayne
K.J. Cook
G. Cure
L.Danks
G.M. Davies
V. Drew
J.B. Evans
E.W.  Foster
G.T.Foster
A.C. Fowler
W. Foxhall
M.A. Francis
J.H. Franks
J.R. Gittings
H.N. Gossage
T.P.G. Griffin
E. Hammond
N.H. Hatton
J. Jones
L. Lamborne
P. Lutwyche
R.C. Luxon
A. Noakes
F.K. Platt
A.F. Richardson
A. Russon
E.A. Shirley
L. Tector
A. Terry
S. Thomas
D. Turley
F. White
S. White
Pictures to be uploaded soon