18th Century
1760-1781
William Scott creates an estate around Great Barr Hall (known then as the Netherhouse). Merrions Wood was planted around 1770. In 1777 Joseph Scott married Margaret Whitby and spent dowry expanding the Netherhouse. By 1781 Joseph Scott was facing bankruptcy and by 1785 moved abroad leasing the Netherhouse to Samual Galton Junior.
1787
In 1787 they key features of the area were Ray Hall and Snails Green. Snails Green appears to be an area near the junction of Pages Lane with Birmingham Road. A number of graves in St. Margarets church specify 'of Snails Green' indicating the importance of the area at the time.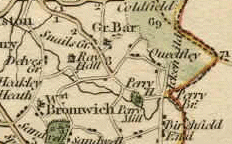 1785-92
Great Barr Hall became a meeting place for the Lunar Society.
c. 1799
"The opening valley is rich and pleasent, and the surrounding country very picturesquely broken, being enriched by the beautiful seats of George Birch, Esq., at hamstead; Joseph Scott at Barr; and the Earl of Dartmouth at Sandwell".
[Rev Stebbing Shaw]