1851 Census
The Red House
The owners were not in residence at the Red House on the night of the census, Thomas Bagnall and his family being recorded as been at Queens Palace, Cheltenham.
For the 1851 Census sixteen people were recorded as being in the house on the night of 30th March 1851.
There seems to be five groups of people, the main staff of the house - Butler, Cook, Ladies Maid and Laundry Maid; Support staff - Labourer and Housekeeper; A gentleman's assistant and servants; An annutant (pensioner) and her companion, and a Schoolmaster's family.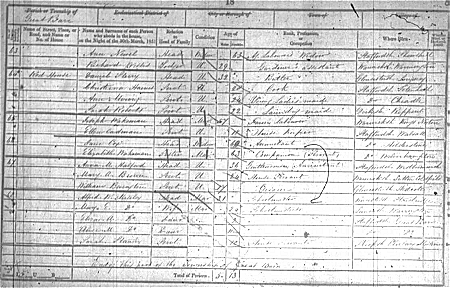 | Name | Relation to head of family | age | Profession | Born |
| --- | --- | --- | --- | --- |
| Daniel Sterry | Head | 32 | Butler | Longney, Gloucestershire |
| Christiana Haines | servant | 28 | Cook | Tettenhall, Staffordshire |
| Anne Miring | servant | 24 | Young Ladies Maid | Cheadle, Staffordshire |
| Sarah Roberts | servant | 22 | Laundry Maid | Reppent, Derbyshire |
| Joseph Wakeman | Head | 67 | House Labourer | Kings Norton |
| Ellen Cadman | servant | 18 | House Keeper | Walsall, Staffordshire |
| Jane Cox | Head | 68 | Annuitant | Staffordshire |
| Elizabeth Wakeman | Sister | 63 | Companion | Wolverhampton |
| Anna M Halford | Head | 34 | Gentlemans Assistant | West Bromwich |
| Mary A. Brown | servant | 24 | House Servant | Sutton Coldfield |
| William Bevington | servant | 17 | Groom | Hidcote, Gloucestershire |
| Alfred W Moseley | Head | 31 | Schoolmaster | Stourbridge |
| Mary E Moseley | Wife | 24 | Schoolmistress | Warrington, Lancashire |
| Elizabeth Moseley | Daughter | 2 | - | Great Barr |
| Ainsworth Moseley | Daughter | 11m | - | Great Barr |
| Sarah Stanley | Servant | 10 | House Servant | Cleobury Mortimer, Shropshire |